Thursday, May 3, 2018 - 10:13am
Facilitating a learnership for unemployed matriculants in an informal settlement.
When my colleague and I met a group of 12 young men and women from several communities stretching from Lehae to Henley-on-Klip in the south of Johannesburg in July 2016, we had no idea of the impact we would have on each other's lives.
Chantal Gomes and I are corporate business trainers by profession. Our company, options in training, had entered into a contract with a training co-ordination organisation to train this group of enterprising, yet unemployed, Gauteng millennials.
All were matriculants, who had completed English and Mathematical Literacy proficiency assessments in order to embark on this Level 3 End User Computing (EUC) National Certificate learning opportunity. A generous donor company sponsored the costs for the entire learnership. This included a monthly stipend for each learner, designed to cover travel and food costs for the training days throughout the year-long training.
In order to make the experience as accessible as possible for all, student-trainer contact/teaching time took place several times a week at the Lerato Educational Centre in Eikenhof. We were welcomed with open arms by the school board, staff, principal and young Gr 1-3 school pupils.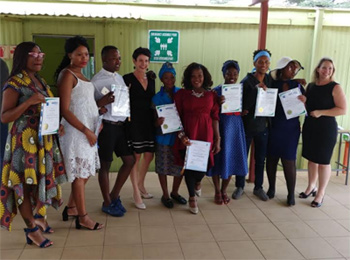 Being an ex-teacher myself, I confess that I have never seen such a work ethic, sense of responsibility and self-discipline from such young children …nor have I experienced such fierce pride and protectiveness for the school premises from the local mums who ensure that the school is not vandalised!
We were humbled by the generosity of the Lerato Educational Centre community, who offered us a newly donated prefabricated container classroom to use. At first, we were equipped with tables and chairs, and a blackboard. There were no working power points, pens, notebooks or toilet paper. Chanty and I, along with some very helpful students, built some serious arm muscles as we toted the learner portfolios, extension cords, plugs, chalk and extra stationery supplies to class every day!
Pages