Tuesday, December 10, 2019 - 2:05pm
South Africa has three of these Quality Councils, she explains.
1) Umalusi is responsible for "school level" qualifications which are on the first four levels of the NQF – Levels 1 to 4.
2) The Council on Higher Education (CHE) is responsible for higher education (post- secondary school) qualifications which are the ones on level 5 to 10 offered by registered private higher education institutions and public Universities.
3) The QCTO (Quality Council for Trades and Occupations) manages vocational training and education from Level 1 through to level 6. The level overlaps with Umalusi and the CHE, but the area of focus is very much the trades and occupations, from plumbing through to being a chef or even some areas of accounting. These colleges are called TVET – Technical Vocational Education and Training Colleges. (In the past called FET (Further Education and Training) Colleges.
Coughlan says the level on the NQF gives one an indication of how complicated the subject matter is. Level 10 is where Doctorates are pitched, for instance, while Level 4 is the level of Grade 12.
"Only registered private and public institutions can offer qualifications that are on the NQF, while both private and public institutions can offer on all levels and through approval from all the Quality Councils. This means that the only difference between public (University) institutions and private higher education institutions – which may as a result of regulations not refer to themselves as private universities - is that the public institutions get some subsidy from the government while the private institutions don't."
Coughlan says when one has a clear understanding of the NQF, that information will assist you in deciding what to study and where.
"If, for instance, you want to follow a trade or vocation such as becoming a Chef, you need to find a college (public or private) accredited by the QCTO and registered as a private or public TVET College with a qualification on the NQF.
"If however you want to pursue a higher education qualification such as a Higher Certificate, Degree or Diploma, you can investigate your options among any of the country's 26 public Universities or 116 registered private higher education institutions.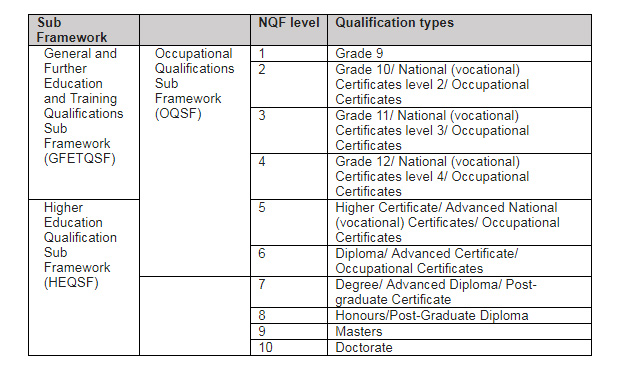 "As always, it is crucial for prospective students to thoroughly investigate all their options, to ensure they find the best fit for themselves in terms of location, campus, and offering."
* Prospective students can find a complete list of all registered private colleges and higher education institutions on the DHET website
Pages