The media refer to it so frequently, that we all assume we know what it is and we never really pin down what it is and how it affects us.
The term Industrial Revolution was used by the 19th century economic historian Arnold Toynbee to describe Britain's economic development from 1760 to 1840.
Let's start with what we mean by Industrial Revolutions. An industrial revolution has two components. The first is the creation of new technology – for example, the invention of the steam engine. The second is a change in production brought about by the technology – for example, steam-driven weaving looms. Each time a new technology is created, the manufacturing [making] process ratchets up a notch. As the revolutions become more complicated, multiple new technologies are discovered, and the process accelerates.
The table below shows the sequence of the five industrial revolutions. You will see how each revolution sets the scene for the next one. Note also the time period of each revolution.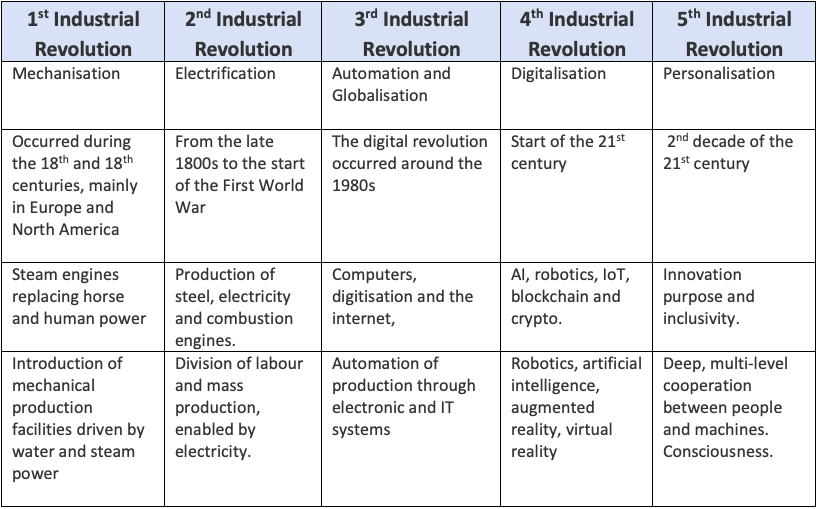 The first revolution mechanised the textile industry. The second industrial revolution gave us the assembly line, high volume industrial production and high mass consumption. The third allowed information to be captured in digital format and to be cost-effectively transformed, manipulated and transmitted. The fourth industrial revolution has provided us with robotics, artificial intelligence, augmented reality, and virtual reality. There were nearly two centuries between the first and second industrial revolutions.
Klaus Schwab, the founder of the World Economic Forum, coined the term "The Fourth Industrial Revolution" at the WEF meeting in Davos in 2016.
Most of us reading this article will have experienced the last three industrial revolutions in our lifetime – with more to come!
Along the way, we picked up globalisation, climate change, environmental degradation and multinational conglomerates with annual revenues larger than the GDP of many countries. More efficient production has meant increased pollution, reckless consumption of non-renewable resources, and ever-improving quarterly profit statements.
The Fifth Industrial Revolution (5IR) can be summarised as the combination of humans and machines in the workplace. But this is vastly oversimplified and does not even begin to explain the magnitude and complexity of the change.
Marc Benioff, the founder of Salesforce sees it this way: "I see a crisis of trust in technology," he told the World Economic Forum. "in the Fifth Industrial Revolution, we're going to have to have… a chief ethical and humane use officer. Are we using these technologies for the good of the world? You can't do business in the Fourth Industrial Revolution without the trust of your employees and your customers and partners."
The third and fourth revolutions were hard on humans and hard on the environment. Previous generations had to adapt their lifestyle to what the machines could do. The Fifth Industrial Revolution is different. Human beings are now front and centre in the production process.