Wednesday, November 21, 2018 - 11:14am
Many of us in the education, training and development (ETD) space have a limited understanding of what a disabled learner is. Let me start by telling you my view; "disability is identified with illness or impairment in the biomedical approach, with most emphasis falling on curing the disabled individual." There are many ways to define "disability", however I will use this one.
It is a privilege to be afforded the opportunity to work with and facilitate learners with disabilities. In my first encounter, I had a class of 25 learners all who had different disabilities. I learned a lot from the experience. My initial reaction was "how will I manage a full day of training with so many disabled learners?" I told myself, "facilitate as you would to any other learner" and give the learners the opportunity to guide you on how they would like to be treated.
I first got to know the person sitting in my classroom by conducting a fun activity focusing on getting to know each other aside from our disabilities and what an amazing experience! This gave me a chance to know everyone and for the learners to recognize that as a class (collective) we are interested in all the aspects of them as a person, not just their disability. In doing this activity, one of the learners made a note and said they are not disabled learners, but they are "differently-abled". How amazing would it be if we could look at each person in society as differently-abled?
In my opinion I believe that as an ETD Practitioner we need to create a comfortable learning environment for all our learners, however special care should be taken for those learners who have disabilities. [For me] it first starts with analyzing my target audience before the learning programme commences. Having this knowledge will support planning and preparing the training resources required to make the learning programme effective. Another important aspect is to ensure the training facility being used is filly fitted to accommodate differently-abled learners. I am proud to share that as an organisation we do our utmost to ensure our training venues support our learners' respective needs. Training material is amended (where necessary) to accommodate learners who may have sight or visual needs. The support of an onsite First Aider is equally important should the need arise.
Over the years I have learnt to ask my learners what classroom set-up would best support them, or what size print (in the learning material) would be most suitable. They know best and can provide you with the answers needed on how you can support and ensure you have created a conducive and inclusive environment for the transfer of learning to take place. If I can highlight an important aspect when engaging with disabled learners is that you must earn their trust. Provide them with the time to share their experience of living with a disability and allow them to guide you on how to support them.
I would often relate and share my own experience living with my grandfather who was epileptic and laugh with the learners at some of the silly things he would do. The saying "you relate to someone better if they have been in your shoes", was exactly the case that made learners open and share their own experiences of being disadvantaged and other times too advantaged, especially when it came to social grant (SASSA) or retail shop queues.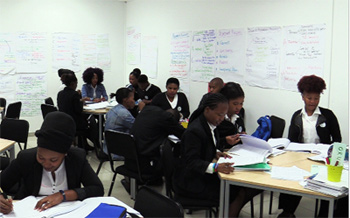 Sufficient learner support is key. Depending on the size and needs of the learners, we determine the number of learner support coaches to allocate to the group when it comes to coaching and support sessions which is included in our learning programmes and qualifications. Apart from the face-to-face engagement, find additional ways to support learners, for example to create WhatsApp groups, posting articles through company social media pages relating to their learning. Not all learners are the same and as ETD practitioners you will need to invest time in understanding each learner to establish the best possible way to offer your support through the learning and coaching framework available to you.
Patience is the key practice when facilitating to learners with disabilities. At times you are forced to reduce the pace of your session to cater for the learning needs of the group. Ensure you remind yourself that the learner is most important in the learning intervention and you are their point of reference.
Some of the biggest challenges I have encountered when training disabled learners is when they do not take good care of themselves in terms of their illness or disability, for example not taking their medication and you realise this because of certain behavioral changes which may occur in class. Taking time to attend to the learner and offer help where necessary does impact on the rest of the class not to mention the pace and flow of the training day which has been set out.
In closing, I believe that our role as ETD Practitioners is to safe guard the self-confidence of our learners. Allow them to have faith in their abilities resulting in them building a healthy self-esteem. We need to be reminded that we are all differently-abled and continuously aim to create an environment of trust, openness, understanding and confidentiality for all our learners.
Learning should be fun, and this shouldn't ever change, as we have learnt today, we are all differently-abled.
Contributor: Phumeza Ncedani, ETD Practitioner at Omni HR Consulting (Pty) Ltd